Hanukkah is all about celebrating the miracle of oil lasting for eights days. It's also about the incredible blessings of always having more than enough so we can share with others. In our family, we have what you might call a fry fest, in an attempt to use every ounce of cooking oil used to make the latkes. This is the recipe for the latkes.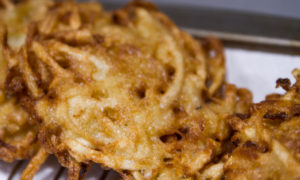 Latkes are hash browns in American terms. They are patties of shredded potatoes with a little egg and flour to hold them together. Then fried in hot oil until they are lightly golden, crisp on the outside and tender on the inside. I prefer mine with sour cream, but lots of people like the tradition of applesauce as well.
This is my gluten free version.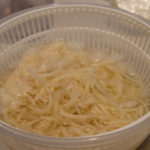 I use Namaste Gluten Free Perfect Flour Blend.  It contains xanthan gum, which helps develop some structure and stability to keep the patties together.  If you don't need a gluten free version, use good old all-purpose flour.  The ice bath is a very important step.  If this isn't done, the potatoes hold on to too much starch and become gummy.  I use a salad spinner for this step.  The strainer lifts out easily, the spinning action helps remove more water than a standard strainer.  Some of the shreds will escape through the holes but are easily retrieved.  Place the potatoes on a sheet pan covered in paper towels to get them thoroughly dried.  Again this is a step that shouldn't be skipped.  The batter will stick to the shreds better.
These can be made ahead by about an hour and held in the oven. I made the batch for the photos, and had more than I needed and they seem to do just fine with some time in the freezer. Just wrap them well, reheat in a pan or in the microwave. I have been enjoying them just like hash browns for breakfast with a fried egg.
Traditional Latkes
1 ½ pounds Russet potatoes
2 large eggs, lightly beaten
2 tablespoons gluten free flour blend with xanthan gum
2 teaspoons salt
1 teaspoon white pepper
1 teaspoon garlic granules or one clove minced garlic
4 cups neutral high heat cooking oil
Peel the potatoes and cut into chunks that fit into the hopper of a food processor. Using the large grating blade, grate the potatoes. Soak the shredded potatoes in ice water for 15 minutes, drain thoroughly and dry on paper towels, for about one hour. In a mixing bowl, combine the flour eggs, garlic salt and pepper. Stir to combine. Add the potatoes and coat them completely with the batter. Let stand. Using a large heavy pot, pour in the oil and heat to 325. Stir the potatoes again and using a 1/4 cup ice cream scoop, drop in the potato mixture into the oil; do not overcrowd the pan! Flip the patties after about 5 minutes and cook another 3-5 minutes or until light golden brown. Remove with a slotted spoon and drain on a cooling rack over paper towel. These can be made slightly ahead and kept warm in the oven for about an hour. Serve with cinnamon spiced applesauce or sour cream with fresh chives.
Save
Save