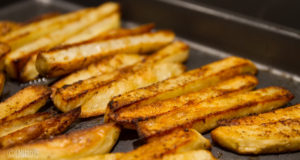 This potato recipe is a great easy recipe for kids to make. Who doesn't love French fries? Frozen steak fries can be substituted for the fresh potatoes, but fresh is so much better! Serve with catsup, or your favorite sauce. They make a great companion for burgers and steaks.
Oven Roasted Potatoes
1 ½ russet baking potatoes
3 tablespoons unsalted butter
2 teaspoons kosher salt
2 teaspoons fresh ground black pepper
Peel the potatoes and cut into 1/2 inch wide sticks, similar to steak fries. Melt the butter. Grease a 9″ by 13″ baking sheet and preheat the oven to 425 degrees. Place the potatoes on the pan. Add the salt and pepper to the melted butter and stir to combine. Drizzle the butter over the potatoes and toss to coat evenly. Spread the potatoes in a single layer on the pan. Cook the potatoes on center rack for ten minutes. Turn the potatoes over and cook for another 10 to 15 minutes or until golden brown. As a substitution, frozen steak fries can be substituted but will need to be thawed for about 30 minutes at room temperature before adding the butter. Olive oil is a great substitute for the butter.
Save
Save