This is an iconic and classic dish that was always made with canned green beans, canned soup and canned French fried onion rings. And it's a staple on so many Thanksgiving tables, it can't be ignored. In my version, it's mostly made from scratch from the simple bechamel sauce and fresh gluten free ingredients. Once you try this easy recipe that can be made ahead, you won't go back to the original!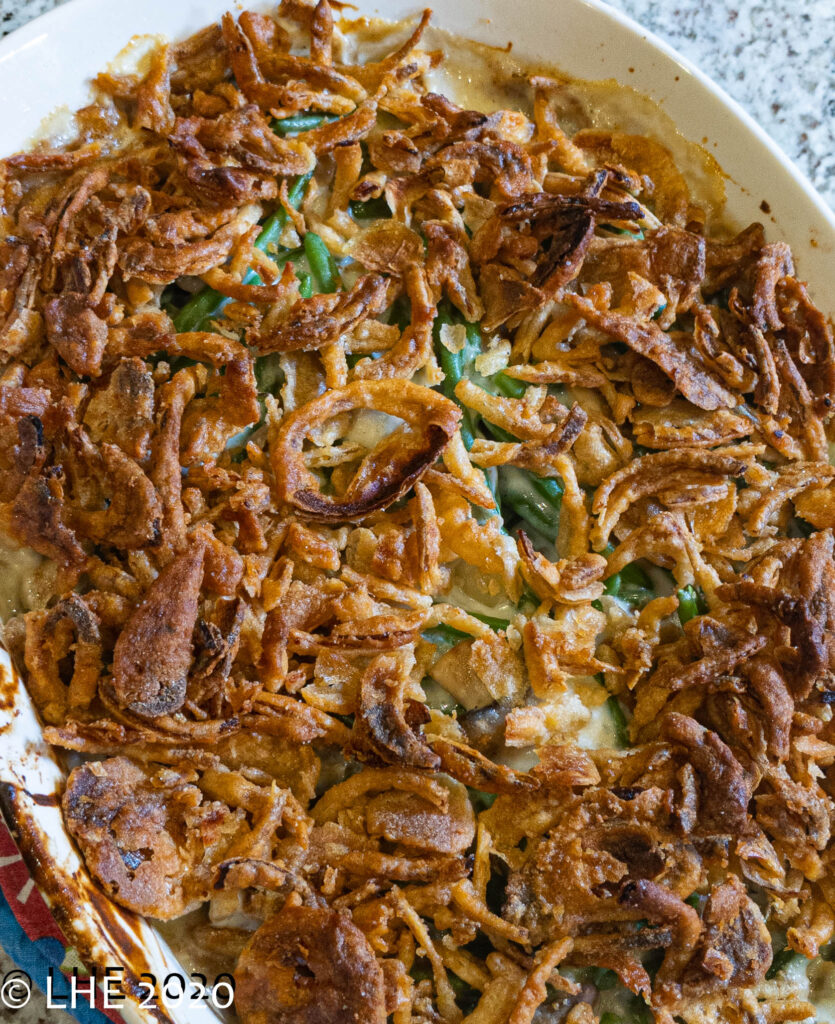 1-pound frozen green beans
8 ounces fresh mushrooms, sliced
1 1-2 cups milk
4 tablespoons butter or cooking oil
3 tablespoons gluten free flour blend with xanthan gum
1 clove garlic minced or grated
½ diced onions
½ cup sour cream
1 can French fried onion rings
Salt and pepper to taste, about ½ teaspoon each
Preheat the oven to 350 degrees. In a medium saucepan, melt the butter over low heat. Add the mushrooms, and cook for 2 minutes, stirring once. Add the diced onions and stir for another 2 minutes or until the onions begin to soften. Slowly stir in the flour; continue to stir to remove any lumps. Slowly add the milk, and continue whisking to prevent lumps. The mixture should begin to thicken. Add the salt and pepper and remove from the heat. Add in the sour cream and garlic, stir until combined.
Prepare a 2-quart casserole dish by spraying with non-stick spray or brushing with a little cooking oil*.  Pour the green beans into the sauce and about ½ cup of the onion rings. Stir until the mixture is well combined. Place in the oven and bake for about 25 minutes.  Remove and add the rest of the onion rings to the top.  Return to the oven and bake for another 15 minutes, or until the green bean are at the desired texture and the casserole is hot and bubbly.  Cool for 15 minutes before serving. 
To make ahead, complete all steps until the final addition of onion rings. If the casserole is cold, it will take about 30 minutes to reheat.
*For a little extra flavor and a nicely browned casserole, grate about ½ cup of Parmesan cheese over the oil or spray.