This classic guacamole recipe is as simple as it gets.
The goal is to make the avocados the true star with fresh lime juice and some dried spices.
It's the foundation of many enhanced guacamole recipes with additions of fresh tomatoes, jalapenos, cilantro and more goodies. Avocados are very healthy with good fats, fiber and vitamins. I can easily eat a raw avocado every day for lunch. Making it into this easy guacamole creates a great base for a simple taco salad, as well as toppings for fajitas and burgers. Using fresh garlic is delicious but not for everyone! Using fresh grated garlic is very pungent and adds a bite and heat that is not possible when using dried garlic.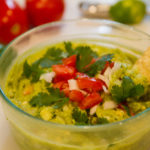 I found this great bowl just for guacamole.   This Prepworks by Progressive bowl keeps the dip fresh for more than a day, if you have any leftovers!  But with this recipe, leftovers are rare.  A few drops of lime juice also helps to reduce the browning.  This recipe is very adaptable.  Make sure you taste along the way.  Avocados are bland and take on several flavors.  Add extra garlic, pepper, cayenne or lime juice.  Serve with a big bowl of chips and your guests will be very happy!
Classic Guacamole
2 large Haas Avocados
1 tablespoon fresh lime juice
½ teaspoon granulated garlic or one small clove grated fresh garlic
½ teaspoon granulated onion
¼ teaspoon ground cumin
Pinch of cayenne pepper, more to taste
½ teaspoon kosher salt
¼ teaspoon fresh ground black pepper
Slice the avocados in half, remove the pit and dice into a medium sized bowl. Add all the other ingredients, reserving a few drops of lime juice. Use a fork or masher to blend everything in completely. Taste and adjust seasonings as needed. Drizzle the reserved lime juice and cover the dip with plastic wrap. Chill for 1 to 2 hours before serving.