I am asked loads of questions about gear, so this is a list of some of my favorites. Most are very practical, well made, and not super expensive.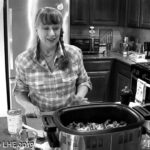 First up, this was one of my favorite gadgets. This is the Cuisinart 3-in-1 6 quart multi cooker. I use this for so many goodies, like easy marinara, stews, soups, braised and roasted meats. It's large enough for a 4 pound whole chicken and my favorite family pot roast. This is my easy go-to for one pot meals, and replaced a large slow cooker. Many recipes include browning and searing meats and veggies before going into the slow cook phase. This usually means two pots to cook the meal and extra clean-up. This is a big problem for me. It extends the time to make a meal, and creates more mess. The multi-cooker simplifies the process of slow cooking, and much more. It has a good timer, multiple settings for browning, and slow cooker options. I gave it four stars; for me the one drawback is that the removable pan is a Teflon type material and can scratch if the wrong tools are used.  It is very easy to clean.
The Instant Pot
It's a funny story about my Instant Pot.  In my little family, we love to cook and we love gadgets.  I was personally opposed to the Instant Pot for a few reasons; primarily the electric pressure cookers and pressure cookers in general had some limitations.  So, I was not going to buy an Instant Pot for myself; I just couldn't justify the space and the cost.  However, my kids were talking about the Instant Pot.  My son has a 6 quart and absolutely loves it.  My daughter wanted one, but the price tag was keeping her from buying one.  My son and I were recently texting about Christmas gifts and I indicated that they were soon to go on sale and I thought it would be a great gift for my daughter.  So, the pots went on sale.  And this was not the basic model.  It was the 8 quart Instant Pot Viva 9-in-1 cooker.  I, on my day off, when I don't want to be in my workplace, went to the supermarket and got the pot for my daughter.  On Friday night I got a text from my daughter, "why didn't you tell me about the ridiculously cheap instant pot at HEB!?  I just bought one."
I replied, "Because Christmas!"
Daughter: "Ah, well I have one now. Couldn't pass it up."
Me: "I know, glad I didn't buy one for myself! So what do you want for Christmas?"
Then on Saturday, I got this from my son. "instant pot picked up."
Me: "who is it for?"
Son: "My sister."
Me: "She got one yesterday! (string of funny emojis)
Son: "Oof."
Me: "I got one for her Wednesday. Do you need an upgrade?"
Son: "Well, want an instant pot for Christmas? You asked me to get it. Or I misread the message."
Me: "I have one now. I'm keeping the one I got for her. That was me, just an FYI."
Son: "Well I'm sure someone in my social group could put it to use. It's a little too big for my use case."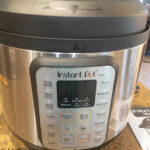 Since I now have it, I used it. Just once so far. And I'm kind of in love with it! I ran it through the initial cycle, and although Buzz the cat found it disturbing, I decided to cook something easy in it. I made two items; mashed potatoes and beef chuck ribs. The potatoes took 5 minutes versus the 20 minutes or longer it usually takes in the microwave. The ribs, which were partially frozen when I started them took about an hour including the searing, which I was able to do in the Instant Pot. I tried the meat/stew cycle, but after two 15 minute cycles I ran the pressure cycle and they were done after one more 15 minute cycle. And the major difference was the texture and moisture. The ribs were juicy, and although they were very tender, the meat didn't get stringy and tough. So, I'm sold! I have a feeling this is going to be a great new cooking tool in my arsenal!
Lodge Cast Iron
Since I am on the subject of cookware, this is my primary skillet. An oldie but goody is the Lodge 12 inch Pre-Seasoned cast iron skillet. It's very tempting to go with a cheaper brand, but this is the best. We have all heard stories of family members inheriting the Lodge, and in my family, my sister got my mom's and she uses it all the time. Without giving away my age, it's well over 50 years old. and still in amazing condition. Over time the surface will be close to a non-stick surface if it's well cared for. This year I will add the Lodge 10-inch skillet to the collection. Best thing to do with this? Cook bacon frequently, drain off the bacon juice (do not discard), and simply wipe it out with some paper towels. You will thank me.
Kitchen & Table Skillet
I needed a new daily skillet, so got this Kitchen & Table 12 inch skillet. I've purchased a couple of green pans recently, but the ceramic coating is a bit whimpy with daily use. But the new K&T skillet is a great buy so far. The ceramic coating is reinforced with titanium, and super slick. I've used in recent videos, and it looks great on camera, plus it's induction friendly. At this time, it's only available at H-E-B in Texas, but it would be worth trying to order it online. A similar pan is made by Bialetti, but the price is $20 higher and it isn't usable on induction burners, because it's made of aluminum. Teflon is just a temporary surface, and once it's scratched, it's trashed.
Traeger Grill
I recently purchased a new smoker.  Every year, I smoke a turkey for Thanksgiving and although my trusty Weber has done the job, my new residence frowns on open fires.  So o the recommendation of a friend, I got a tiny Traeger.  The little smoker/grill is perfect for a small yard with close neighbors.  It's quite the change from the fuss of smoking meats on a charcoal grill, plus it's easier to handle the ashes. The pellets make cooking easier, and having a thermostat has changed me.  I just pour in the pellets, plug it in and set the temperature.  The only downside is that it is electric and rain is not a friend to electricity.
Cookware
I have to give an update on this cookware. It's good, but not great. I recently retired the most used 10 inch skillet. The interior was no longer non-stick and impossible to clean. So it went to Goodwill in the recycling box. I replaced it with the 10 inch Kitchen and Table Titanium ceramic pan from H-E-B.
It was Amazon Prime Day, and I went shopping. My cookware was a mish mash of items, some professional cookware, and beautiful set of stainless steel, and just old odds and ends. Much of the inexpensive items had warped and no longer heated evenly. I have a portable induction burner for demos and classes, and my very nice stainless and aluminum are not compatible, so it was time for a change. I found the Circulon 10 piece set, ordered it and fell in love! This incredible hard-anodized super tough non-stick cookware is amazing! It's compatible with induction, has a thick multilayered base that sits flat on the ceramic cook top, and with the next generation Teflon surface, metal spatulas can be used. It's oven safe and the exterior surface can be take a little elbow grease if needed, so it will look nice for photos for a long time. It's supposed to be dishwasher safe, but I will leave that test to others. I hand wash all the pans to keep them looking good.
My stainless steel set is Farberware Millenium.  T.D. gave me the set about 20 years ago as a Christmas gift.  The cookware is pretty much bulletproof.  I have cleaned the exterior with steel wool, overheated it, and use the stock pot regularly for stock, soups and stews.  I've also added on with newer items that don't match, but I love them anyway!  Maybe my grandkids will inherit it!  For someone who loves to cook, getting a set of really nice cookware is a great gift.