This all started the week before Memorial Day. My friend and I, who both work too much, were planning a day by the pool and a nice dinner at my house. Except that, on the day before, I realized I had forgotten the ingredients for the meal. So, I went for a dinner out of stuff in my fridge and freezer. I dug around and found the last pound of a chuck roast, and then dug in the pantry and found everything needed to make this recipe. This made everything very simple for a relaxing day. I rescued the slow cooker from the depths of my cabinet to make these extremely simple recipes. With the roast cooking away in the slow cooker, we spent an hour at the pool, sipping margaritas. I got sunburned, but it was worth the time relaxing and talking to a good friend.
Shredded Beef Tacos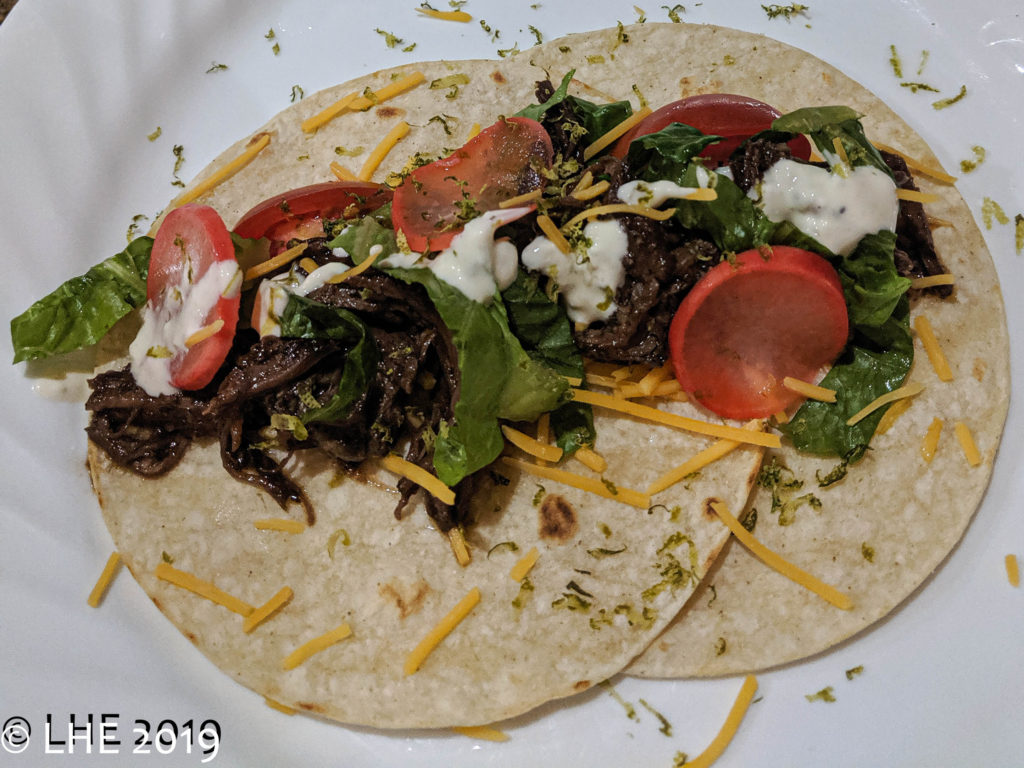 Make 4-5 servings
1 pound boneless chuck roast
2 tablespoons cooking oil
2 teaspoons ground cumin
1 teaspoon ground coriander
2 teaspoons kosher salt
1 teaspoon freshly ground black pepper
1 teaspoon Mexican oregano (Greek is fine for a substitution)
½ teaspoon onion powder
½ cup diced onion
2 chipotle peppers in adobo plus 2-3 teaspoons adobo sauce
1-2 cups chicken broth
3 cloves garlic finely chopped or grated
My slow cooker is a multi-cooker, so I use one pot for all steps. Skipping the browning will still make a great batch, but browning adds an extra level of flavor.
Blend 1 teaspoon cumin, 1 teaspoon salt, ½ teaspoon pepper, and onion powder. Coat both side of the roast with the mixture. Heat the pan and add the oil. Place the meat in the pot and brown on medium heat, (my pot automatically sets to 350 degrees on the brown sauté setting) for about 5 minutes and turn. Brown on the other side for 5 minutes. Set the slow cooker to high, and add the stock and the rest of the spices. The roast should be covered about half way. Add more stock if needed. Cut up the chipotle peppers and add them and the adobe to the pot. Add the onions. Stir to combine, cover and set the timer for 4 hours! When the meat is fork tender, remove it to a bowl and shred. It's easy to shred using two forks. Meanwhile increase the heat in the pot to reduce the liquid and thicken the sauce.
To serve, use flour or corn tortillas, lightly heated.  Use your favorite toppings, like lettuce, tomatoes, diced onions, jalapenos, pickled radishes and cheese.  I used sharp cheddar; it complements the flavor of the meat better than other lighter cheeses.  Drizzle the mayo over the taco and enjoy!  These are really delicious, but provide lots of napkins; they can be a little messy!